Over the past ten years, there has been probably 82% exploitation of the weak passwords with more than 10,000 successful thefts, in android systems alone. Main targets were customers who didn't know how to secure their web-connected PCs and mobiles, and ultimately hackers were much aware of such. Hackers are much interested in taking your personal identities with help of your devices.
Taking care of data in your mobile devices
As a first thing, set up a pin or pattern to unlock your home screen. And then try encrypting your digital data with Androids Encryption Features. Further, activate Android Device Manager and make sure that device is properly working by signing into your Google account.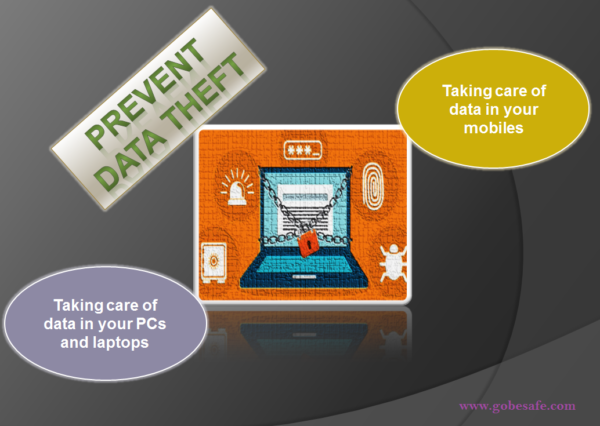 Also, use complex passwords to log in and enable second factor of authentication where possible. This second authentication can be an OTP, QR code, pin number, Biometric, Bluetooth or Geological-based. By this, there are chances of significant reduction in hacking and phishing with a most nominal expenditure cost.
You can also download an anti-theft app in your Android, which can make you locate your phone even when the sim has been changed.
Taking care of data in your PCs and laptops
It is very easy for hackers to log into your PC or laptop with a guest account, boot it with different OS or to remove the hard drive and install it into another PC. Here in these cases,System passwords are of not much help. Either you should have disabled login options with a guest account or Encryption is the only viable defense. Or in other ways, make habit of storing vital or all data in the cloud server. When theft happens of your laptop, you can easily get your data transferred to the new one, by logging on with Windows account and clicking the stored profile and retrieve data of the old one.